AA'S UNSTOPPABLE ENERGY 
Motivation motivation motivation! When Harout is in the house, one can easily tell, cause his voice, his upbeat energy, and his fighter's spirit would fill the space, and push everyone to their best.
Whether it's a kickboxing one-to-one session, a group circuit or his famous Brazilian butt class, he will not be satisfied unless calories are burnt, muscles are toned, and inner beasts released!
SPECIALTIES:             GENERAL FITNESS  + CARDIO WORKOUTS + BRAZILIAN JIU JITSU
PERSONAL RECORDS:    100 BURPESS IN 100 SECONDS + DRY APNEA: 5 MIN
FAVORITE AA PART:      THE PLAYGROUND


AA'S QUEEN & POLE GODDESS
She is a beautiful combination of strength, sexiness, and fun; and she is a role model for her students 'the pole warriors' who are growing rapidly in number.
Through her determination and hard work Laura is leading the way in spreading the pole love in Lebanon and making people recognize it for the sport that it is; the sport that builds strength, flexibility, self-esteem, while at the same time being fun and challenging.
SPECIALTIES:                  POLE FITNESS & POLE DANCING + FLEXIBILITY
PERSONAL RECORDS:        IRON X POSE 60SEC
FAVORITE AA PART:        THE STUDIO
AA'S CALISTHENICS BEAST
Otherwise known as Babov, Karim has the looks and the attention to detail of a Nerd  !
He will push everyone to perfect their form and enhance their endurance. He goes by the motto "If it doesn't look perfect, then it doesn't count." He masters everything he does and does it with the utmost precision, especially when teaching it to his students both in class or in personal training.
SPECIALTIES:                   CALISTHENICS / BODYWEIGHT AND WEIGHT TRAINING
PERSONAL RECORDS:         16 muscle-ups under 1 minute
FAVORITE AA PART:          THE OUTDOORS
AA'S DISCRETE TRANSFORMER
With a maximal discretion, and a minimal invasion of your privacy, Kevork will strive to make you reach your fitness goals with a lot of passion and generosity.
SPECIALTIES:                   
PERSONAL RECORDS:         
FAVORITE AA PART:          THE RUNNING TRACK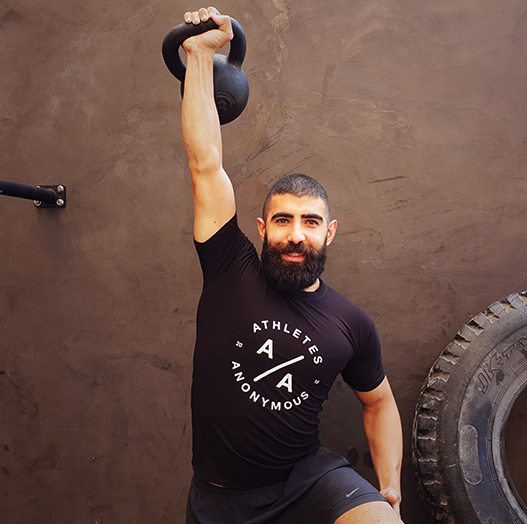 AA'S DYNAMIC MULTI-TASKER
Elie is a true multi-tasker; he has a unique way of combining Weight Lifting, Resistance Training & TRX Training
His charming smile, his sculpted body and his long beard will make you find him right away in every corner of A/A!!
Specialties:                    Lower Body Workouts
Personal Records:          151kg 1 rep Squat / 142cm Box Jump
Favorite A/A Part:          The Playground
AA'S POLE DIVA
Rita is a nice mix between a very professional teacher, a strict observer & a perfectionist aiming to get the best out of each of her students.
Her good mood and constant laughter will get you there !
SPECIALTIES:                 DANCING & POLE DANCING
PERSONAL RECORDS:       HUMAN FLAG 1MIN
FAVOTIRE AA PART:        THE STUDIO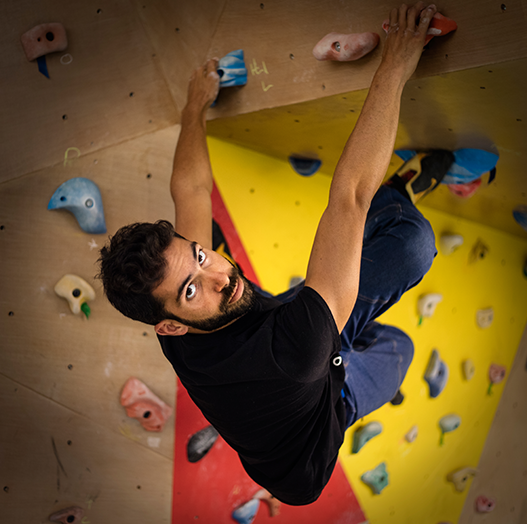 AA'S CLIMBER & FLYING FROG
He calls himself Flying Frog, and he truly is one. He fully dedicates his life to climbing and bouldering, and is passionately growing a big community of climbers in A/A and in Lebanon.
In both his group classes or his one-on-one sessions, Nic not only focuses on the students' flexibility, strength and agility, but also on the mental challenge of finding the best routes.
SPECIALTIES:                   CLIMBING – BOULDERING
PERSONAL RECORDS:         MONKEYBARS 1 LOOP: 32 SECS, ROPE CLIMB 6M: 8.4 SEC
FAVORITE AA PART:          THE WAL