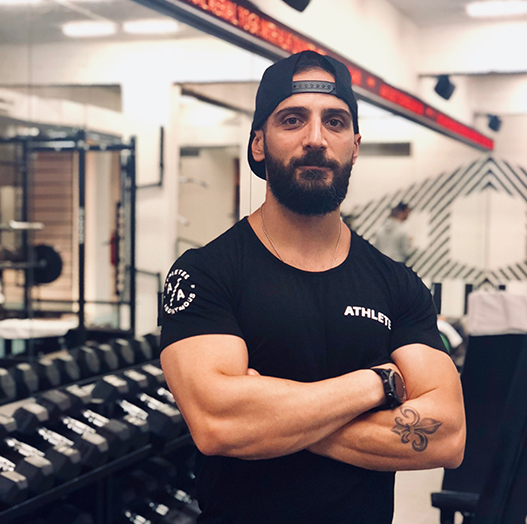 AA'S MULTI-TALENTED FORCE
Many trainers are great in few specialties, but few trainers are great in many specialties. Patrick belongs to the latter group. Suspension training, weights, HIIT, spinning, functional training, and even nutrition tips.. He has certificates and extensive experience in all.
He focuses on proper form, and takes his time in correcting any wrong move always in a very professional approach. A big added value to AA and anyone he trains!
SPECIALTIES:                  RESISTANCE TRAINING, FUNCTIONAL TRAINING, TRX, CANCER EXERCISE TRAINER & ADVANCED SPORTS NUTRITION
PERSONAL RECORDS:  100 REPS OF 100 KGS SQUATS, SPINNING 2K IN 1MIN30S DEADLIFT: 200KG, SQUAT: 180KG, BOX JUMP: 123CM
FAVORITE AA PART:     THE TOUGH SIDE
FAVORITE JUICE:        400-CAL BREAKFAST MEAL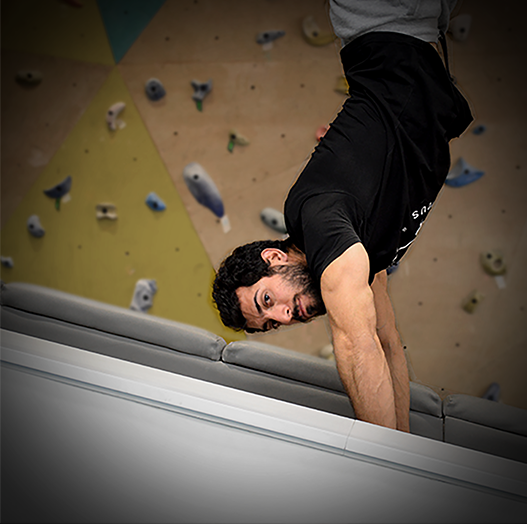 AA'S MASTER OF CALISTHENICS
Dom is the fitness idol of so many A/A members. He combines immense physical strength with a perfectly sculpted body. And he rarely touches a dumbbell or a barbell with weights.
Dom is a great example of what bodyweight training can bring to fitness. His Calisthenics classes are gaining big popularity rapidly, while he patiently motivates everyone to learn doing handstands, levers, human flags and other endless skills.
SPECIALTIES:                 CALISTHENICS – STREET WORKOUT – BODYWEIGHT TRAINING
PERSONAL RECORDS:    MAX PUSHUPS: 98, MAX PULLUPS: 34, MAX SQUATS: 120REPS
FAVORITE AA PART:        THE OUTDOORS
FAVORITE JUICE:             KETO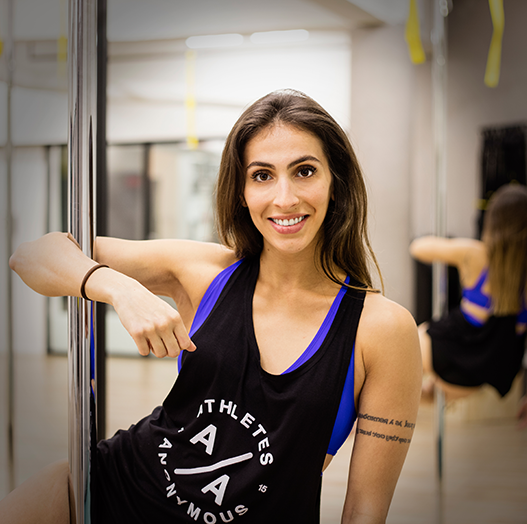 AA'S QUEEN & POLE GODDESS
She is a beautiful combination of strength, sexiness, and fun; and she is a role model for her students 'the pole warriors' who are growing rapidly in number.
Through her determination and hard work Laura is leading the way in spreading the pole love in Lebanon and making people recognize it for the sport that it is; the sport that builds strength, flexibility, self-esteem, while at the same time being fun and challenging.
SPECIALTIES:                    POLE FITNESS – POLE DANCE – STRETCHING
PERSONAL RECORDS:     IRON X POSE 30SEC
FAVORITE AA PART:        THE LAB
FAVORITE JUICE:             SKIN GLOW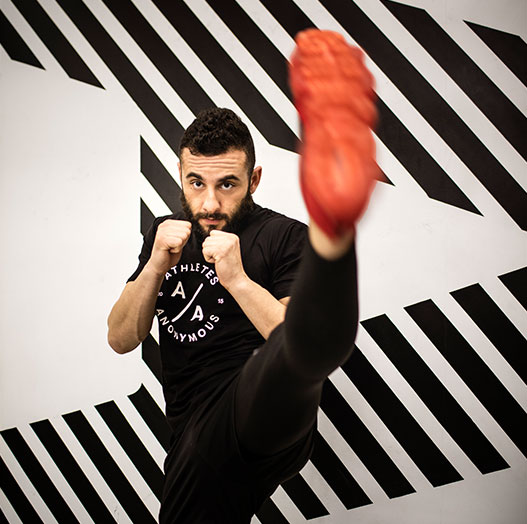 AA'S UNSTOPPABLE ENERGY 
Motivation motivation motivation! When Harout is in the house, one can easily tell, cause his voice, his upbeat energy, and his fighter's spirit would fill the space, and push everyone to their best.
Whether it's a kickboxing one-to-one session, a group circuit or his famous Brazilian butt class, he will not be satisfied unless calories are burnt, muscles are toned, and inner beasts released!
SPECIALTIES:                  COMBAT CONDITIONING – JIU JITSU
PERSONAL RECORDS:   DRY APNEA: 5 MIN – FREE DIVE: 33M
FAVORITE AA PART:      THE FIGHT CORNER 
FAVORITE JUICE:         THE GREEN JUICE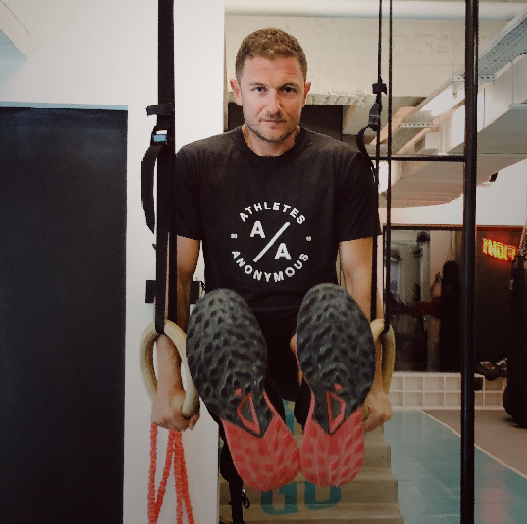 AA'S SILENT KILLER
Little in words, big in results. Smooth and smiley in communication, tough and strict in pushing to the best. Yet Marcel's trademark is that he's a great listener. He listens well to your goals, and he listens better to your bodies.
And this is what makes him not only assure an injury-free training, but also he's excellent at rehab and strengthening weak points. A true professional!
SPECIALTIES:                POST REHAB, INJURY PREVENTION, PROFESSIONAL ATHLETES TRAINING (PRE-SEASON, DURING AND OFF SEASON), CALISTHENICS LEVEL2 
PERSONAL RECORDS:  
FAVORITE AA PART:    THE PLAYGROUND
FAVORITE JUICE:         COCONUT BOUNTY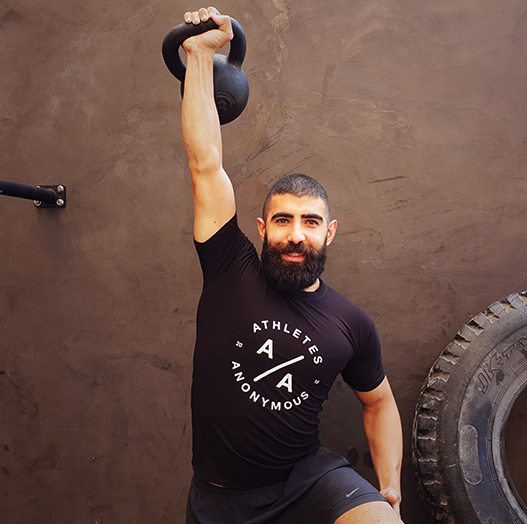 AA'S DYNAMIC MULTI-TASKER
Elie W is not just an advanced certified trainer and a fitness addict; he is A/A's Manager On Duty!
A true multi-tasker; he has a unique way of combining Weight Lifting, Resistance Training, TRX Training and day to day operational duties.
His charming smile, his sculpted body and his long beard will make you find him right away in every corner of A/A!!
Specialties:                    Lower Body Training
Personal Records:       151kg 1 rep Squat / 142cm Box Jump
Favorite A/A Part:        The Though Side / The Playground
Favorite A/A Juice:       Strawberry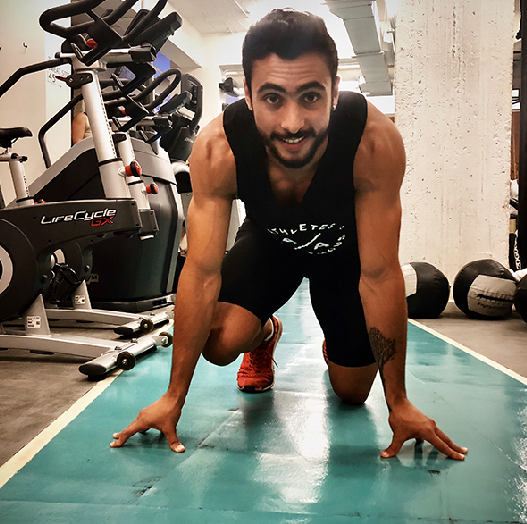 AA'S USAIN BOLT
How motivating it can be to train with Lebanon's fastest man ever! Chris is the national record holder of 60m sprints, and current champion of the 100m. And he trains AA'ers, regardless of their fitness levels, the same way he trains himself; the athletic way, always using new and different exercises.
A role model in discipline, commitment, determination, with a very humble and kind personality. Chris has an immensely promising future, both as an outstanding athlete and as a passionate trainer.
SPECIALTIES:                   PLYOMETRIC, EXPLOSIVE AND ATHLETIC TRAINING
PERSONAL RECORDS:      60M NATIONAL RECORD HOLDER 6.89S / 3RDFASTEST 100M IN THE LEBANESE HISTORY OF 10.62S
FAVORITE AA PART:          THE RUNNING TRACK
FAVORITE JUICE:               RED BOOSTER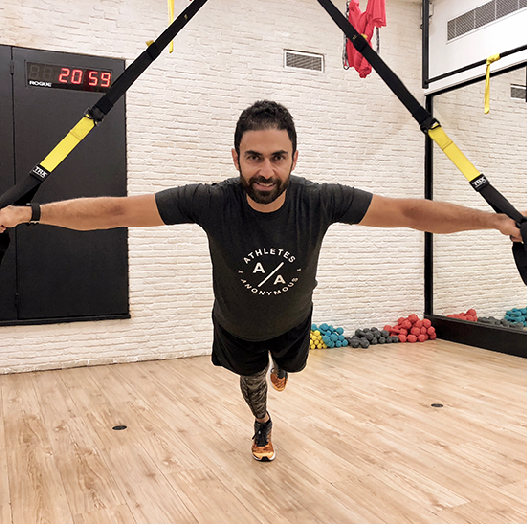 AA'S MATURE EXPERT
His mature personality, calm voice and charismatic presence make you trust him right away! Expert in suspension training, Samer has a unique way in giving either his signature TRX class or his pt sessions where you'd get hooked to his style. His gentle yet firm methods will give you all you need for a complete body-mind workout!
SPECIALTIES:                  TRX TRAINING / BODY WEIGHT TRAINING / BATTLING ROPES
PERSONAL RECORDS:     L70K DESERT BRISK WALK
FAVORITE AA PART:        THE STUDIO
FAVORITE JUICE:             PEANUT SMOOTHIE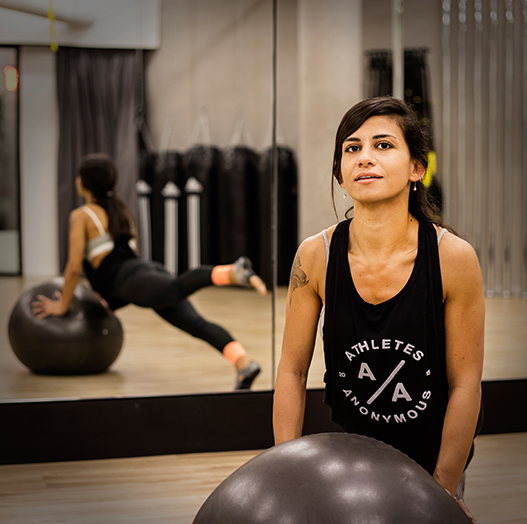 AA'S PILATES PRINCESS
Rana is gentle, sweet, serious, and tough all at the same time. And the same applies for her class; it appears to be easy, but ends up leaving everyone sore, toned, and worked out to the smallest muscle.
In addition to Pilates, Rana has a big experience in training for all fitness goals. And her charm is surely a plus.
SPECIALTIES:                   PILATES, STRETCHING, BALANCE TRAINING , TONING
PERSONAL RECORDS:      LOW PLANK: 8.22MIN
FAVORITE AA PART:         THE STUDIO
FAVORITE JUICE:             THE DETOXIFIER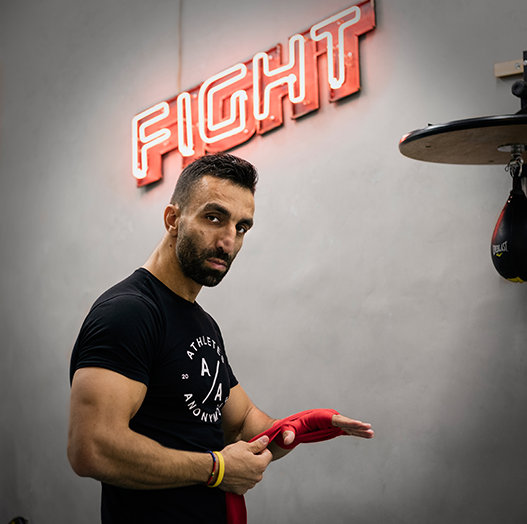 AA'S PRIDE & LEBANON'S BIGGEST NAME IN BOXING
Charbel's great reputation comes from years and years in the boxing and fitness worlds. He knows how to train and inspire beginners just interested in some good cardio workout, as much as he knows how to push advanced boxers to win championships.
Charbel is big muscles with a bigger mind and a biggest heart. His strong fitness background, his outstanding technical expertise, and his warm personal approach, will surely make anyone sweat from head to toe within minutes.
SPECIALTIES:                  BOXING – STRENGTH & CONDITIONING 
PERSONAL RECORDS:    MAXIMUM PULLUPS: 32, BENCH PRESS 1RM: 125KG
FAVORITE AA PART:       THE SWEAT SIDE
FAVORITE JUICE:            COCONUT WATER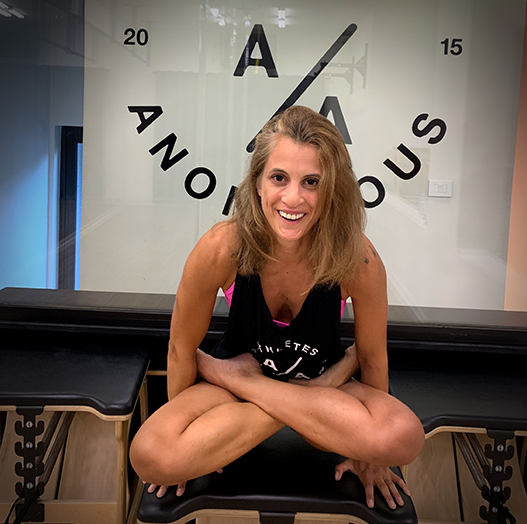 AA'S STRONG YOGI 
Started of as the woman-beast in Calisthenics, got her first certification then, and nothing can stop her ever since.
Her motivation and passion for fitness in general, also awakened her "softer" side with her newest pursued Yoga certification.
Her Yoga class focuses on toning, sweating, core strengthening and she beautifully ends it with teaching a different skill every time.
SPECIALTIES:                  CALISTHENICS, CORE & ABS, VINYASA YOGA
PERSONAL RECORDS:    14 PULL-UPS, 1 MINUTE HANDSTAND
FAVORITE AA PART:     THE OUTDOORS
FAVORITE JUICE:         VEGAN CHOCOLATE
AA'S FLOATING ACROBAT
A guaranteed beautiful energy during her classes. Nice mix of stretching and acrobatics
SPECIALTIES:                   AERIAL YOGA, ACROYOGA
PERSONAL RECORDS:     SNOWBOARDING CHAMPION
FAVORITE AA PART:         THE LAB
FAVORITE JUICE:              CHOCOLATE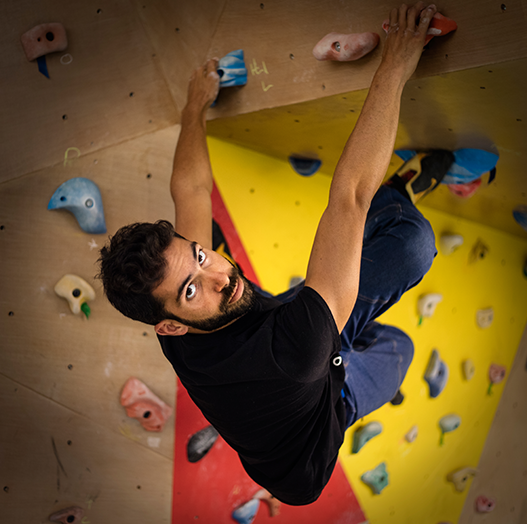 AA'S CLIMBER & FLYING FROG
He calls himself Flying Frog, and he truly is one. He fully dedicates his life to climbing and bouldering, and is passionately growing a big community of climbers in A/A and in Lebanon.
In both his group classes or his one-on-one sessions, Nic not only focuses on the students' flexibility, strength and agility, but also on the mental challenge of finding the best routes.
SPECIALTIES:                   CLIMBING – BOULDERING
PERSONAL RECORDS:      MONKEYBARS 1 LOOP: 32 SECS, ROPE CLIMB 6M: 8.4 SEC
FAVORITE AA PART:          THE WALL
FAVORITE JUICE:              GINGER SHOT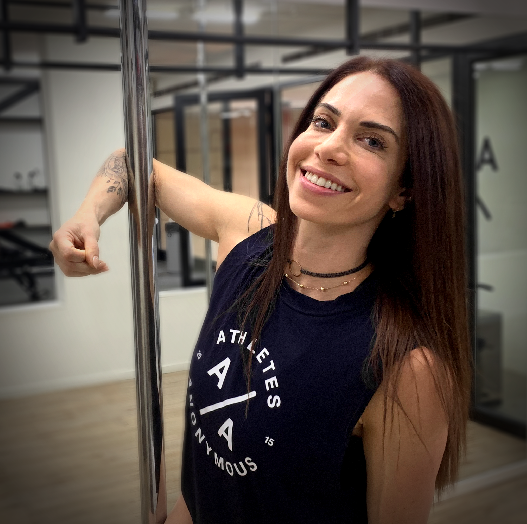 AA'S POLE DIVA
Rita is a nice mix between a very professional teacher, a strict observer & a perfectionist aiming to get the best out of each of her students.
Her good mood and constant laughter will get you there !
Specialties:                 Dancing & PoleDancing
Favorite AA Part:        The Lab
Favorite Juice:             Vegan Peanut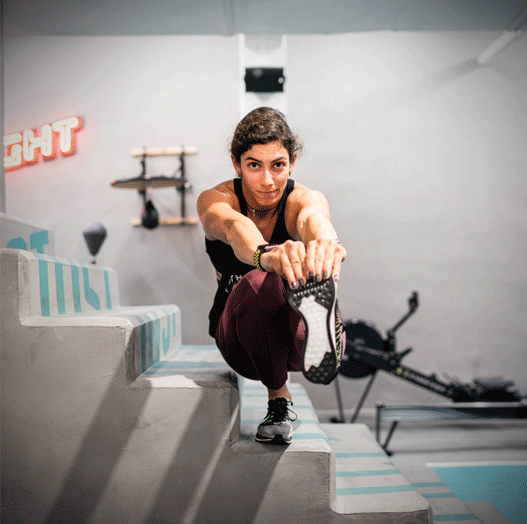 AA'S ATHLETIC ROLE-MODEL
Lebanese champion in 400m Hurdles (1min15sec). Lebanese champion and 3rd in West Asia in Long Jump (5.28m). Diala is great on the track, and even greater in outdoor sports such as ski and rockclimbing. Sports is her life!
And in the gym, her strength can't go unnoticed. She transmits it to the lucky people that she trains in a very passionate, dedicated and humble way.
SPECIALTIES:                  STRENGTH AND CONDITIONING, WEIGHT LOSS, POST-REHABILITATION, WALL CLIMBING
PERSONAL RECORDS:   PULLUPS: 12 REPS, ROPE CLIMB 6M: 21.8SECS, BOX JUMP: 102CM
FAVORITE AA PART:      THE WALL
FAVORITE JUICE:         PINK BOOSTER